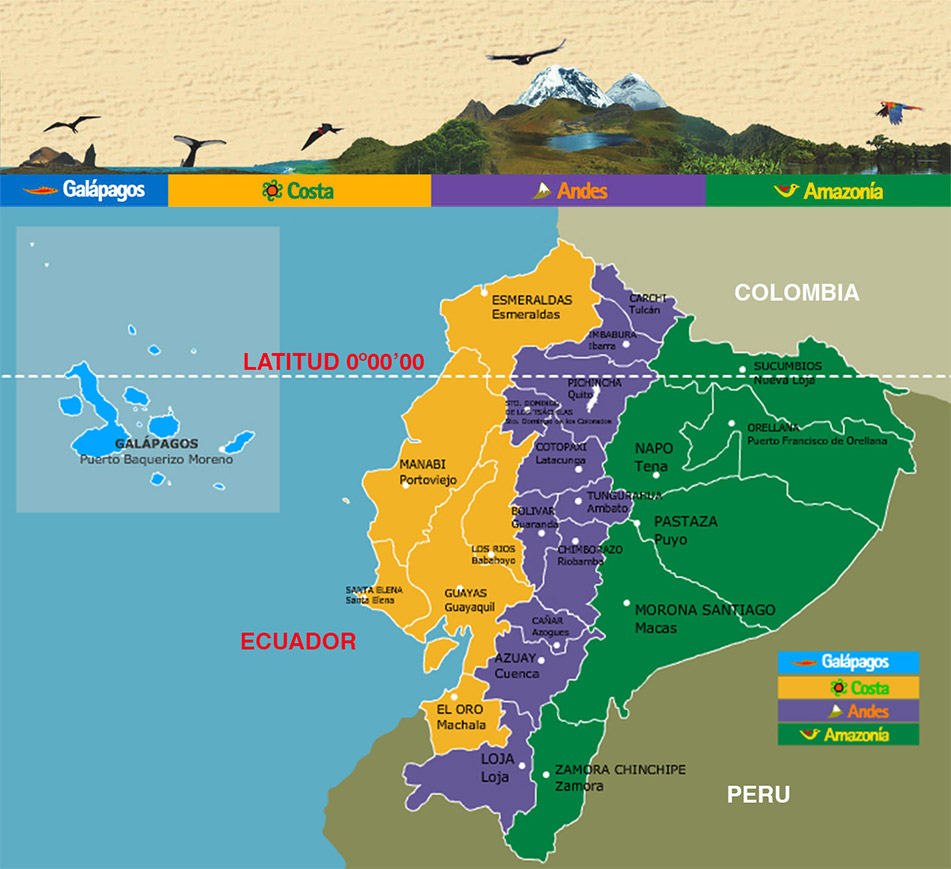 INTRO
Visit Ecuador with us, the country which took its name after the imaginary line crossing the country from east to west: the equatorial line. On a map and with a single fingertip stroke from right to left, you can follow through all the regions and natural ecosystems in the country: start at the Amazon Lowlands and continue up to the Andean Cordilleras where you'll find snow-capped volcanoes such as Cayambe just North of Quito's colonial oldtown. Move left to reach the lush cloud forest and eventually arrive to the beaches on the Pacific Coast. If you dare, move your finger a little further left and touch the waters of the ocean to finally reach the famous Galapagos Islands.
Our team at Latitud0 specializes in creating hand-tailored programs that best fulfill your wishes and expectations. Some program features include:
- More cultural and adventurous activities like trekking or horseback riding, bird and whale watching or climbing to high-altitude summits
- Trips with professional Guides, either on public transportation or driving your own rental
- Stays in traditional yet luxurious haciendas or lodges, cozy hotels or even homestays with indigenous families
- Take a cruise or go island-hopping with overnight stays in hotels in the Galapagos Islands
Let us plan your journey, we'll design a once-in-a-lifetime experience for you, both in Mainland Ecuador and the Galapagos islands!
INTRO
Though one of the smallest countries in South America, Ecuador offers an incredible variety of sceneries, wildlife and people. This makes Ecuador an attractive destination for the active traveler.
Explore the different regions on foot, by riding a horse or mountain biking; or perhaps experience Ecuadorian rivers while kayaking or floating on a raft. There are options for the beginners as well as for the professional riders, climbers and hikers. You can tailor your own experience from a few hours up to a several-day trip.
To get a first glimpse of high-altitude climbing or prepare yourself for a more ambitious dream, try one of the many technically straightforward ascents at peaks ranging from 4.200 to 6.000 meters above sea level.
The most inviting and frequently-climbed glaciated peak in Ecuador is the beautiful-looking Cotopaxi. A perfect volcanic cone rising 5.897 meters above sea level, it attracts climbers, trekkers and day visitors all year round.
INTRO
How to travel around in Ecuador, where to start and which ones are the "not to miss places"?